Mycle's Cycles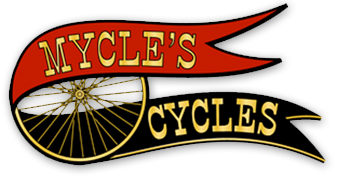 I love to ride and so will you! Michael Hart Owner, Mycle's Cycles
Roxanne - Wonderbeast & shop dog. (Learn more on "Roxy")


Join Mycle's Cycles on Facebook
Michale Hart, after years and years in the auto racing industry, discovered the joy of cycling. Now reformed, Michael is a devout cyclist. Everyone comes around eventually.
COME VISIT OUR STORE IN GEORGETOWN, OHIO (IT'S WORTH THE TRIP)
Georgetown, Ohio? Where's Georgetown?
Georgetown is a small community in southwestern Ohio near some of the best cycling routes the area has to offer.